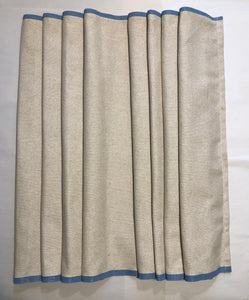 A revolutionary game changer couche/cloth created for you, with properties that facilitate drying and limit the development of mould
This particular sustainable for the proving of baguette or bread
Made to order, starting from 40cm up to 80cm wide & 100cm to 240cm length
Material: 50% linen, 25% cotton, 25% polyester
Machine wash at 30C with or without detergent. It is important not to use softer.
The shrinkage is about 4% during the first wash
- Non-stick treatment to limit chalking and sticking of the dough
- Hydrophobic treatment to limit the absorption of moisture
- Antibacterial treatment to limit mould growth
- Certified for food contact
Please note; If you use this chouce material with a very wet paste and at temperature close to zero degree, due to the hydrophobic treatment a thin film of gel can cause the paste to hang on the fabric. In this case , it is advisable to favour our cloth 100 Linen.
For alternative size and custom made options, please email us at info@flourpantry.com 
Delivery time: Approx. 15 days