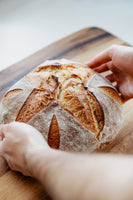 We want to be healthy
We care about what we eat. I am sure you do too. That is why at Flour Pantry, we go to great lengths to find heritage flours that are healthy and taste better. Produced in small batch by passionate artisans.
We have selected several exceptional flours for you to enjoy. All freshly milled with no additives.
Sourced directly from producers
We select producers who share our love of real food, our respect for the land and our dedication to flavour and quality.
By sourcing produce during their real seasonal window, we bring back richer and more complex flavours and at the same time support a sustainable and food ecosystem. Food as it should be.